Family Tree Archive Service
Preserve and Celebrate Your Family History
Do you have your family tree in boxes?
Maybe you have written it all by hand and either don't have the time or don't know how to enter all that valuable information into a genealogy program?

Let us be your family archivist.
For only $1 a name, we can input your ancestral information on to a genealogist's computer program, and also print it out for you.
Just send us the information you have, and you can have the product of our work for no extra charge, in electronic form (USB). Ready for you to print.
There will be:
family group sheets
pedigree charts, and
a gedcom file.
Printing options can be arranged for you for a fee depending on size required.
Black/White or colour, ideal for framing and display.
Framing would be an additional cost, which can be quoted on request.

We use Family Tree Maker software and have access to other programs allowing us different styles of charts to display your family tree.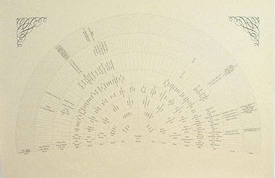 Your Family Tree Chart may be displayed similar to the one above, samples of styles will available as your tree grows. If you like you can have the Family Coat of Arms on either side (if it is available for the family names).